My very first tutorial showcases this very pretty necklace that was inspired by two similar necklaces I found on a couple of fashion blogs that I follow. I first saw Kendi's, from Kendi Everyday, statement necklace here. Then, just a few days ago, I saw a very similar necklace on Mel from Modanista Junkie, here. Mel's was smaller and I thought it would be a better fit for me since I'm shorter.
I really wanted to match the milky teal color of Kendi's and Mel's necklaces but couldn't find them online for a good price. I found beautiful sapphire ones at JoAnne's and I absolutely LOVE the outcome!
Here's what you will need to make your very own beautiful drop bead necklace:
11 or so oval, tear shaped, or pear shaped beads, any size, your choice of color (Mine are 8x16mm sapphire beads)
12 gold or silver colored round beads (or 1 more than the bottom layer/drop beads) (I used 1cm beads)
11 flat head pins in a gold or silver color long enough to make an eye pin at the top of the drop beads
Gold or silver colored beading wire long enough to string your beads through (I used 26 gauge wire)
4 gold or silver jump rings
Gold or silver necklace chain, any length your prefer
Lobster clasp closure
Jewelry pliers: flat nose and round nose
Wire cutters
1. I started by inserting the pins through the sapphire beads and creating an eye pin at what will be the top of the bead with the pliers. Do this for all the sapphire beads. Don't know how to create and eye pin? Here's the link to a handy tutorial! There are tons of videos on how to do this, too, if you just do a little YouTube search.
2. String the round beads and the sapphire beads alternately onto the beading wire starting with the round beads. Make sure the eye pins you made on the sapphire beads are closed tight so they don't slip off the thin beading wire. I also made sure to face the flat side of each pin in the same direction, just because. :)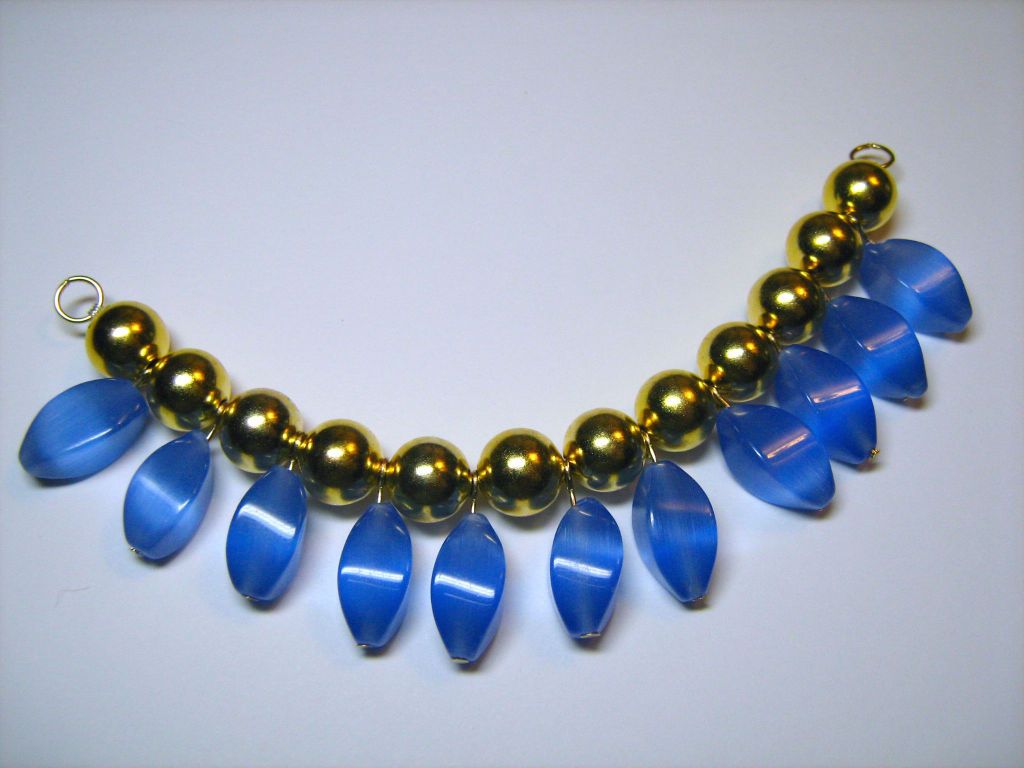 3. Once all your beads are strung on the beading wire, loop the ends a few times through a jump ring on each end. You can tuck the ends of the wire into the last round bead so it doesn't stick out and poke you or snag your clothing. Also, make sure to pull the wire a bit taught so it's not too visible.
4. Add the two remaining jump rings and lobster clasp to the ends of the necklace chain, if it doesn't already have them. Close the necklace and lay it on a flat surface. I'm too much of a perfectionist so I found the middle of my necklace opposite the closure, then counted 11 chain links on either side of that middle chain link and attached the two jump rings of the beaded string to those chain links. You want the chain to hand just a bit higher than the beaded part, or however you like it, really.
And you're done!
I don't know how much Kendi's necklace is worth but according to Mel's blog post, she got hers from Lia Sophia listed at $82.00. See it here.
I'd estimate my version to run about $17 just for the materials alone. Not bad for a day's work. The hardest task is running around town trying to find the right pieces to put together. This necklaces is made from pieces found at JoAnne's and Hobby Lobby.